Aug 21 2009 Friday, 3:00 pm
macam makan sorang2 jer aku dok kat meja makan ni, nunggu mamat tu punyalah kedaung lama kay! janji lunch sesama, sampai aku dah siap order orangnya tak sampai jugak…
chakri has come out with a new menu, aku adalah pencinta oyster sesangat but susah nak ajak sirman makan coz dia kureng sket. sekali ko oyster chakri RM29 for half dozen, aaa makan sedap sedapppp! 2 ketui sirman ngap, 4 ketoiii aku ngap, lom letak nasi hapa aku dah licinkan oyster dulu.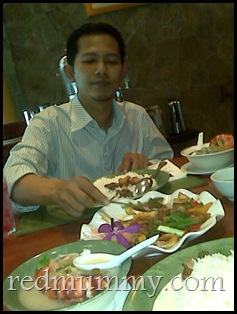 it s not easy for sirman to be in the klcc, so dah ada chance dia kat klcc nih, aku booked dia ler. takkan dia nak pi makan ngan kawan2 dia plak dah tentu ko ngan kawan2 opis ko ari2 leh jumpa kan, sentap gak bini mung kalo dok mahu lunch ngan aku…so ai brought him for lunch kat chakri, sebab dia dok nengok ke main sedap je aku makan ari2 kat sini kan…
aku bawak dia makan kat chakri jer, kuasalah aku nak bayau.
we stopped by at Eclipse….oh aku kan sangat duta Eclipse gak yer.
kak red, laki sapa tu?
laki akak lah
manghaik mudanyaaaaaaaaaaaaaaaaa!!! first time nampak laki ko kak
hoi, dia tua than aku ler, takde maknanya muda!

ni nak kata aku nampak tua ke hapa nih???
last shop to visit is kat kedai ni lah, tah hapa namanya kedai nih…janji leh buat keje sket kat aku nya tali handbag 🙂 . pun pertama kali utk sirman masuk, wah aku kalo masuk kedai ni skang sangat dilayan bagai puteri merah woooo. jom jom sapa nak masuk kedai ni, meh meh…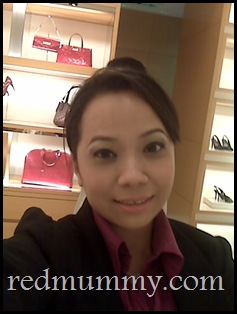 cantik kan hbags belakang2 ai tuh….nak amik gamb hbag ai takut so bebuat amik gambo laki bini, tp background tetapppppp hbags merah.
eh kasut merah yang aku cakap tu kan, bukan RM3600 lah tp RM2600. terlebih mahal pulak aku letak lam blog, pun RM2600 korang nak bayau? korang kayao bley lerr beli letak kat kaki jer
you kalo ai beli kasut ni RM2600, u jerit tak?
kalo kasut tu leh bawak u terbang berjalan sendiri, ha beli lah, kalo konsepnya sama ngan kasut eclipse awak tu, ghentikan ler….
citt!
oh ai pi kedai tu pasal nak buat hotstamping kat tali aku kan..ha udah siap. dedua tali orang tu buatkan….tu berlapikkan laptop bag aku, nak kasi clear..nampak dok?
satu di strap belakang, satu di strap depan, kompem bag ni tak boleh jadi pre-loved….. kenapa plak aku tak buat dotcom, sajer lah.. sirman suh buat RM je udah…kena le dengo cakap laki. kang nak beli lagi bag gini2, tak dpt pulak restu…
hotstamping ni foc jer, tak yah bayau, and ai chose the red font coz depa memang leh buat kaler2 macam2, kaler merah jugak aku pilih ler lgpun talinya tu dah kaler putih peach kan…
so that s bout it
ai brought sirman to chakri for our lunch, in fact our last lunch for this week and sampai pas2 raya lah kot baru datang balik with him or probably next year. aternye dia tak suka mai klcc lah, for him 'jalan jem sangat and too expensive lah keje kat klcc nih, makan kat food court pun mahal, pastu asik melayan butik jer'
mende ler…
time aku bwk dia pi cold storage and guardian tak nak plak dia propahhh
n aku pun dpt bawak dia kat kedai yang leh buat hotstamping tuh gak…huhuuuuuuuuuuuuuuuuu!
redmummy di tali hbag merah 🙂
Comment:
22