Feb 7 2009 Saturday, 9:00 am
main lastik2 badak, korang nak tau hapa…ha nanti aku gegirl reveal lah yer…
napa le lam gambau susah tol nak nampak itu eyeshadow ek…payah very the x clear la weii, so korang main agak2 lah kay..aku blend ngan brown kaler for ujung mata, 2 tones. highlight pun aku pakai jugak. no lipstik just gloss, cam pucat bibir gua…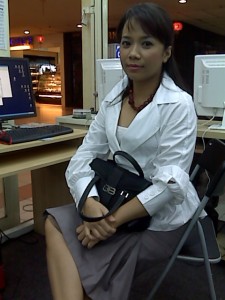 donno lah napa aku pose gini, dam dam cam makcik tunggu anak ke kak?
ahah! background ni best…
remember kan call card aku few months ago. dah abih tingtong. 100pcs for a box, sudah abih licin. ramai jugak client, bloggers n manusia2 yang berkenaan mendapat call card ku. that s only meant for my blogging purposes, nak kenalan? meh jumpa mr manager. saya sudah tidak dalam stage berkenalan hai hai memalu nih. semua related to blog job. bukan blow job!
Last time those yang dapat was for one page jer, back page tarak..that cost me RM25. for Nadh's design, it costs me RM35 cos aku print depan belakang.
Happy to have it? meet me in person then…
but we talk bout blogging business lor.
Comment:
14