May 12 2009 Tuesday, 9:00 am
untuk kali ke berapa dalam sejarah, aku gagal update secepat kilat. salahkan yan! my entry pending sebab menunggu dia pi timbang kati. sudahnya aku buatlah gak entry nih coz knowing yan, her one day probably 1 week or 1 month. blog dia pun kusam.
Ini adalah restaurant Memori Corner kat ngan Taman Melati, sebelah MRR2, aku adalah datang dengan perut kosong lapau. pagi sabtu yer.
since aku tak tau jalan, aku terpaksa paksa sirman nganto aku. lgpun yan cakap bojeng bf nya ikut sama. project menganto jadi dok bfast sama lah.nak jadikan cite, Smart Reader abang cuti plak ari sabtu tuh pasal wesak day, ha dah turun SR, sib baik sirman tengok pintu berkatup malam, kalo idak kitorg menonong pi, tinggal plak abang sorang2 tepi jalan SR tuh. nak tak nak kenalah bawak gak all the red family.
kurang sorang, rose lombab penuh make up semuka gamaknya. this one kami kena pilih bfast session ari sabtu, pasal aku ada LG's event a nite before.
dan membuktikan bahawa aku sangat capek, tidur kol 3,4 pagi and sambung nih…adoiyakkkkk! petang tu aku qada tidur 3 jam. wuiii nikmat!
pastuh perempuan terkahir di memori sampai, bawak si comel Mia…kau sompek lagi nak pose kan dah tentu tau lambat. lambat yang agak2 45 min gitu!
astaga, tak agak2 sirman, aku ngantuk marrrrrrrrrr, bape kali menguap telan angin
so the all of of us, kali ni Sid open table, masing2 ada giliran yer…next month pulak giliran Dila, siap ko, aku tetiba naik berat badan bila dok semedang melantak jer
sila perhatikan rose yer..yang lain tuh memanglah pandang kamera
aku nak buktikan rose pantang nampak kamera…orang dok leka nak makan, dia boleh lagi nak pandang kamera
n she didnt care ngan nasi lemak nya selagi cameraman tu mengelip2 selagi tu lah dia nak pandang camera. wuiii! betul2 lah, cuba terjah amik gambo dia, kompem dia tadah muka dia kat kamera sampai photographer tu bambus..
gegirl and mia adalah sangat rajin buat homework…mia agak moody lah aku rasa arituh, dia kan baru baik domam. ha mak nya pun baru baik domam gak tp demi camera ke main!
merenung masa depan, sentap hangin boliau sebab…dia bengang tak dpt air sejuk, anak2 ku adalah dilarang minum air sejuk skang nih, kalo tak malam kong2 berlawan batuk
abang masih lagi muncung, sib baik makcik rose sblh abang, kalo maknya sblh abang, ada yang makan pinggan gak anak aku tuh, wuiii ko nak buat drama king plak kat cafe ni yer
Gegirl, nanti Kak Mia pun ada sama tau masa bfast
yey, adik nak bawak books, nak belajar ngan Mia
kakak Mia lah!
bila le si rose ni nak abih makan, aku rasa entry arini aku nak belasah si rose je lah…udahlah mai lambat, tak ckp nasi lemak, order roti one not enaf, mmg le not enaf, dia tambah pulak ngan telur separuh masak. perkhhhh! kompem wrestling menang nih
if u are buying Female and Nuyou magazine for bulan ni May nya edition, korang akan dapat all the booklet tu sumer, macam2 kad diskaun ada lam tuh. aku nakkan kad 50% diskaun for G2000. 50% tuh!!! so aku since semua budak2 GBM ni beli and tak suka soping kat G2000, aku suh depa bawak and bak meh bagi aku yang suka ni kutip simpan.
n korang napa Female Magazine May's edition plak, sbb dalam tu adalah aku punya iklan Loreal haircolour, aiyooo bila aku nak kuorkan entry nih. nnang dah kasi green light aku gak hegeh2 tak buat lagi. soonnnnnnnnn!
jadi saya sudah boleh soping, tapi budak cik ni sentap
napa lam Female Yan takde pun booklet tuh
sebab ko dok seremban cabang Sabak Bernam, tu pasal ko x dpt
ayu dila and sid adalah kaki pencucuk wahahaha…syok syok!

koooooooooo! dia merajuk kay. muka nak cembeng je x dpt booklet. tp saya sangat kasihan sama budak yang pipi traffic light, akan mudah merah kalau agak2 nak sodih mahupun gumbira.
so sid bagiklah portion dia kat budak cik nih.
she s the youngest among gbm, but she s the tallest, waktu amik gambo, budak panjang ni dilarang diri sebelah aku.
fyi, kami datang jemaah pagi sabtu adalah kerana utk project car sticker gak. sedari awal semua dah dibagi2 keje, so ni adalah prosess terakhir, mengepost ke alamat yang telah disediakan.
ayu adalah orang yang paling rajin among us, aku pun tak serajin dia ye wpun ini adalah project saya…
ayu lah arranged and deal ngan printer
ayu lah kejar utang RM10, ayu lah gak anto reminder (plus rose)
ayu lah gak update our excel file (plus yan, eh yan ke lagik banyak ahhahahaha)
ayu lah gak yang tuh yang nih, buat teaser beso buat teaser kecik…
ai m sure the 4 setuju ngan saya, yang ayu penggerak for everything…
aaa…sib baik takdak award sapa gbm paling rajin. kalo hidak, kopak memasing…
sian kan, udahlah keje kat The Sun, nak kena belek telek surat kabo ari2, kena pulak buat keje ngan gbm and RM, ko memang tersurat utk menda2 yang berkaitan kertas lah u.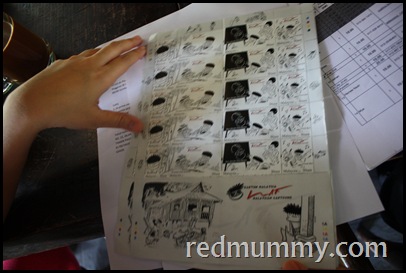 stamps pun dah siap, tunggu nak potong tampal dan do some jilat menjilat. wuii bunyik jilat semacam jer kau…
yang dpt sticker ni jangan riso ler, kami pakai glue lar, x de nye budak2 nih nak jejeh2 air liur
stamps adalah usaha gigih yan membeli dari post malaysia…..
wpun buat kerojer, nak jugak posing bergambo, ater first time nih tetiba ada photographer buat liputan khas kat sini. but perlu diingat, ini adalah terakhir waktunya sirman akan ikut meeting gini. dia bosan gilos! ni meeting pompuan, tp dia kena heret sama. dahlah bojeng yan tak datang, bukan nak habak awal2 si yan nih. x pasal2 aku seret sirman plak
best gak suasana dalam memori nih, suasana jer ler, for me the taste tak best ler sangat pun. no wonder ler si yan tu merocemmend tpt nih, orang bercinta mana kira tpt makan best idok, janji ngan pakwe makwe kan…
first planned was supposed to makan kat Ulek Mayang yang didakwa sebelahan ngan Memori, banyaklah ko nye propah sebelah. ada lam 200 meter dia nya sebelah yer!
setiap stickers mendapat short note dari RM, memandangkan pakai tulisan tangan, the first 10 letters aku jamin cantik dan mudah tulisannya utk kau baca, tp for the rest, agak2 boleh baca tu kira syukurlah. penat woi lenguh jari aku menulis.
3 orang kanak-kanak2 yang pandai bawak diri. yang bagus gak tpt nih selamat for kids, wpun tepi jalan tp depa lebih kemaruk nak berriadah di dalam cafe nih..
siap ado lego uno restaurant ni sediakan.
ilang kalu..sib ko ler.
stamps paling banyak ditampal…penghabisan stamps perabih kat envelope nih. alolo Lilred Farah, engko punya stamps makan lagi banyak dari contribution ko kay. patut charge ko in pounds lah…itupun yang ko nampak x cukup nih, sbb takut sangkut tepi jalan, so yan kena bawak pi menimbang…
final project lepas dah buat kejer, ialah menyambut bday dila..belated one. ado ko masa ngan sid arituh depa nak gather kan sekali arung budak2 2 org tuh, mesti la dila sentap plak kang..so nah a birthday celebration for u dila…happy belated bday
ah penat dah aku nak naip. tp aku nak tuju kat rose, overrrrrrrrrr ko amik gambo.
semua orang ada kat situ, except abang, tp mata rose ada lah lam gambo gini 4,5 keping kan, tp tetap mata dia pandang kat abang. ko nak apa ngan abang tu rose?
n 2 budak kecik yang perasan konon depa pun nak sambut bday gak…waaaa! menumpang blowing the cake nampak
yes abang membawa diri, he doesnt like the riuh ramah ngan makcik2 reramai tuh, apatah lagi nak blow2 cake ngan penuh pompuan segala. lebih baik dia asah minda dia main lego tu
saya jugak mahu bergambar sama si kecil
sirman, nak gambo nak gambo, saya nak bergambo lagikk! x sudah2 si rose ni lah
ayu adalah penuh adiah dari jakarta nampak. not really, one of the make up set MT, adalah kiriman dari ayu. saya amik order dari sapa yang berminat ajer. a little bit of token for the gbms too from jakarta and bandung from red family.
janganlah jeles kalau depa sokmo dapat ole2 dari saya, mereka buat kerojer mar…
menda ni depa buat sebagai sukarela..
lgpun setiap makan kami amik take turn membayo.
Sid is paying for this session, murah jer, x sampai 100 pun, ada lagik satu round nye makan2 leh buat sid…
to the birthday girl Dila, kalaulah aku boleh kerat LG TV aku tuh, aku bagi ko dila, tp apakan daya, itu adalah utk rumah CV ku jugak hahahahahah! so dila, selamat kembali semula ke Sabak Bernam, all the best dengan kehidupan di sana, bekerjalah menjadi rakyat SB yang memolek. apa punya speech aku bagik ni daaa….
kalau ada readers saya yang menetap di SB, ajak2lah dila lunch ke dinner ke…jauh budak nih merantau.
From left si Panjang Yan, Sid the Sponsor, Hajah Ayu The Sun, RM, Sweet Birthday Girl Dila and Rose the tak leh lekang mata kat kamera
one last final photo with the girls…aku rasa nak libas je gegirl ngan si ayu tuh, tak leh nak dok diam…
n while sume orang ngah riuh rendah, mata rose tetap tak ilang dari kamera, ahahhahahah ssabo jer ler aku ngan budak rose nih. kan aku dah bilang entry nih aku nak kenakan rose. very theeeeee awek camera la kau rose!
meeting 4 jam, berenti di thari. lama gila meeting kali nih. sambil makan sambil buat kerja car stickers, sambil celebrate bday, ngan anak2 nya lagi. ngan sirman bosan kena stayed lelama lam nih…
one lesson learnt, pasni tolonglah jangan buat jejauh,  aku tak tau jalan. kena convoy la pasnih.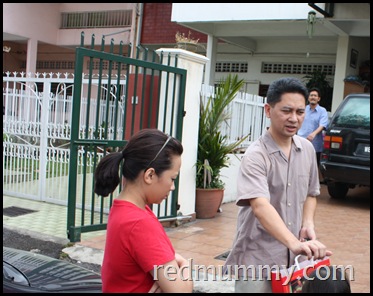 pulang sahaja dari Taman Melati, saya terus rushed to Taman Maluri pulak. menghantar stickers and ole2 for PARM spore. untuk teman2 di spore, this is Vern my fren yang been my kl-spore-kl's runner. aku nak anto apa2 tumpang barang kat dia jer ke spore, coz he s based in spore and every wkend mesti ada kat kl.
so that s bout it, by this week semua yang order car stickers, insyallah will get yours, kecuali lilred farah..delayed sket coz nak kena timbang kati lagi ko nye surat tuh. jauh benau to UK!
yang lelain, the GBM will be in touch with you, atau kamu boleh email us whether kamu sudah mendapat RM's car stickers.
n seperti yang telah saya announced last friday and yday, 5 nama yang masih pending for payment, automatically midnite tadi, nama kamu digugurkan dan dianggap tidak berminat utk meneruskan proses pembelian. Ramai yang on q, in the KIV list mahukan car stickers tu, so saya terpaksa release yang masih tidak membuat pembayaran. Sorry about it, tapi dah banyak kali reminders anto mar….saya jugak tidak akan buat reprinting of the car stickers, melainkan kalo mesin printer tu aku punya, ari2 aku print yang oi….
oh bout the potluck issue, yes ai will not hold anymore potluck, to make it as an exclusive event, it shouldnt be held every year. saya pakai penat jerih tenaga orang. so saya decide kita hold lagi 3,4 taun ker. insyallah.
Comment:
18