Sep 22 2016 Thursday, 8:00 am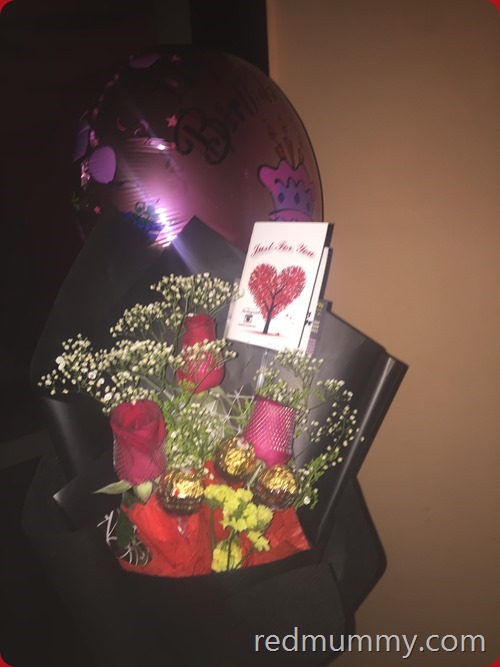 the bouquet yang dah beli dari siang, lepas tu simpan lam bonet keter bapaknya, by his dad lah. Midnite baru bapaknya balik, masuk bilik anak sembunyik2 (mak ngekor belakang) konon nak surprise letak kat tepi katil tup2 anak dara  rupanya tak tidur lagi hahahaha….tak jadik surpriseeeeeeeeee.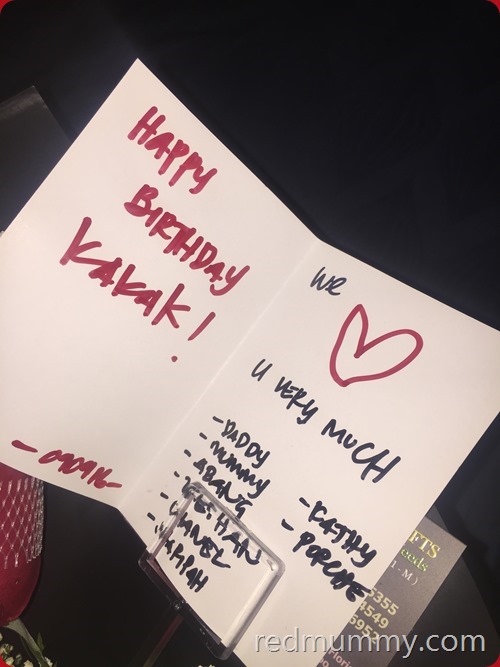 semua jenis kucing bapak ko tulis situ LOL
that was on her birthday lah, memang betul2 habis exam UPSR gak masa tu but she still cannot enjoy yet coz dia ada lagi UPSRA yang masih lagi belum sit in, itu on Oct, very soon.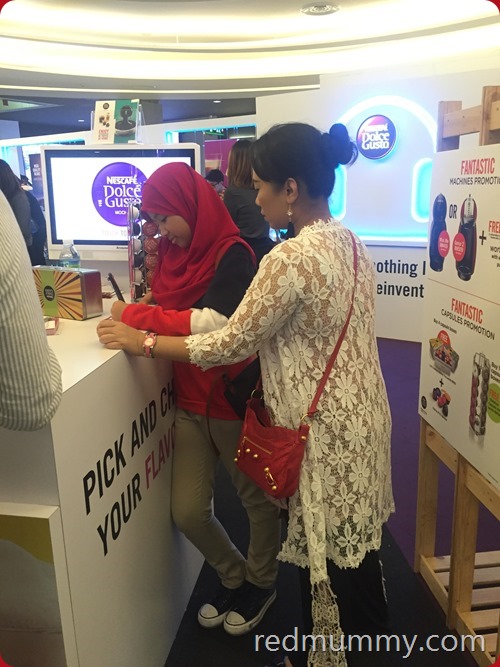 so on the weekend tu, kena bawak dia pergi makan. Since weekdays cannot do one kan (sekolahlah, and bapaknya pun bukan normal hours macam kita), so she chose our usual steak house di MV. I was hoping dia nak makan tempat lain yang lagi near by rumah but birthday girl nak jugak makan kat sini. So let s goooooooooooooo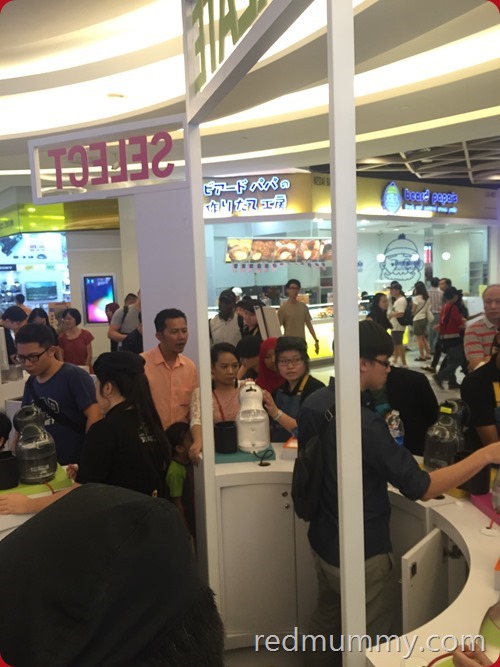 i would like to buy this set lah but if laki aku tak nak minum pakai nih, no point of buying. He s a black coffee addictor,  jadi kita try kita cuba bagailah, dia tak berkenan. Hissh…so tak yah ler. beria ler kita menerai2 aku dah intai2 ngan merah kaler segala.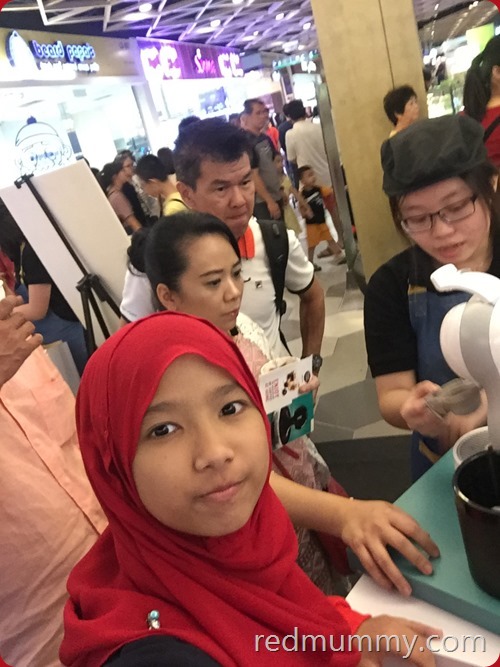 kesungguhan seorang mak belajar pakai benda nih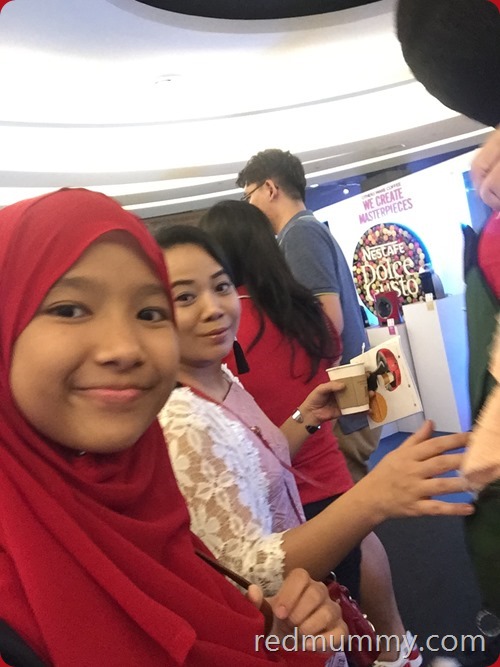 tapi kita tapau minum je lah, udah apak kau tak nak pakai, he dok nak stick ngan black coffee dia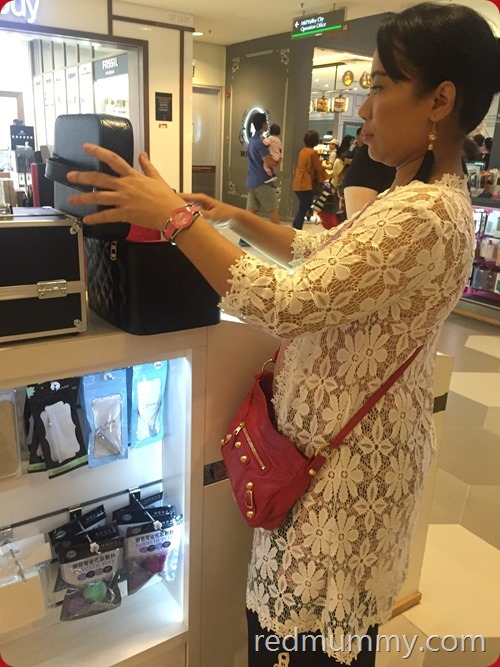 dan kita pusing2…jalan2 dulu coz nak makan macam too early sangat for dinnerr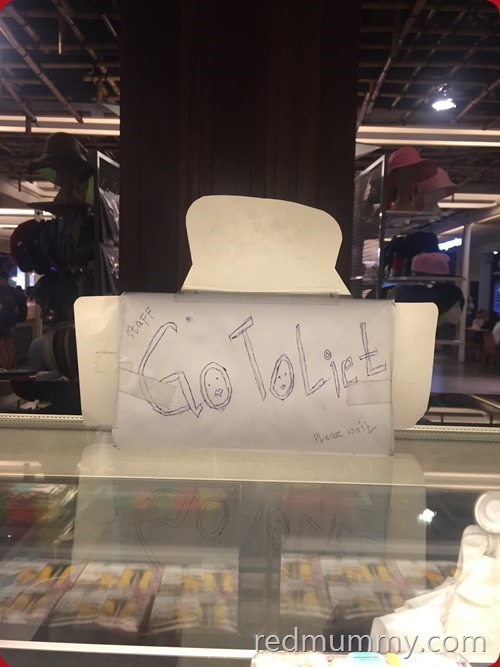 at the durian pancake (pergi mv memang aku wajib tapau nih), seller takde pulak, dia pergi TOLIET 🙂
but pastu dapat ler, laki aku pi patah balik pas makan belikan pancake bininya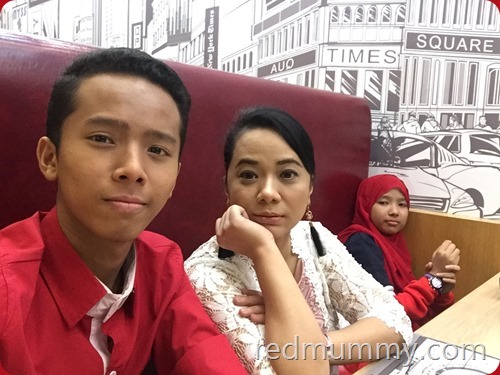 kekiri kanan pakai merah ye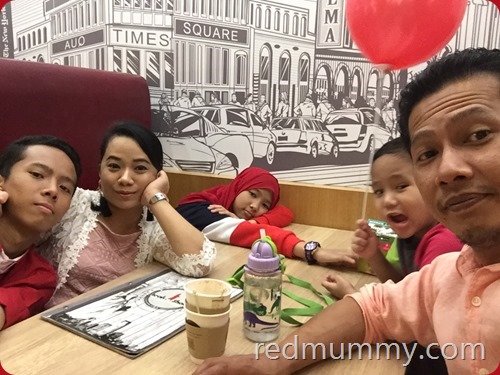 finally we have Zeeshan in the frame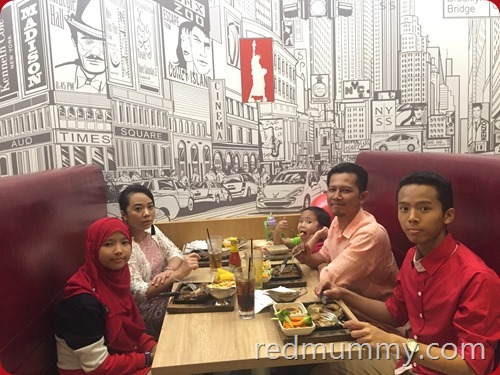 yang paling seronok makan sini of coslah abang and kakak. kakak tu dia punya kunyahan lambat btol nak mengabiskan and even aku punya steak pun dia tolong habiskan gak, suka betul dia ngan steak2 nih…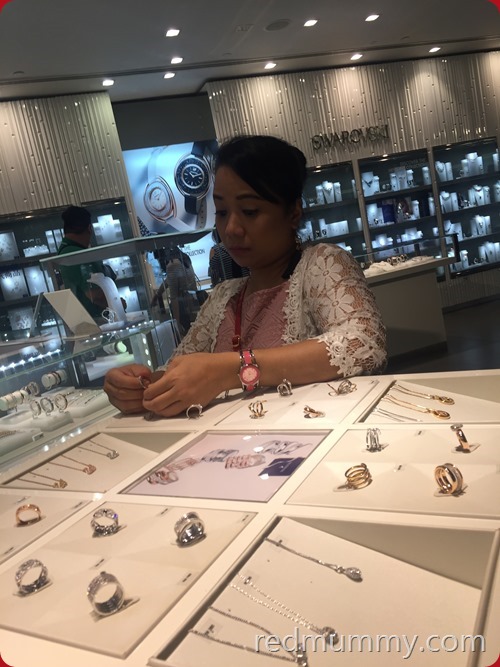 masalah mata, nak tengok number tu kecik benau (i have the rabun jauh and rabun dekat skang nih)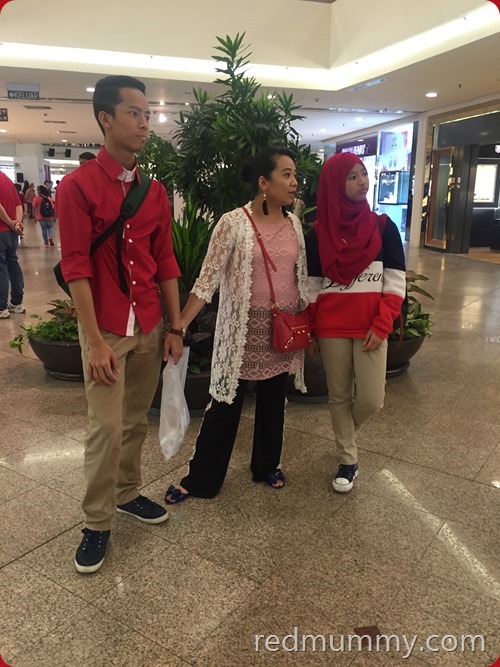 my seluar tu sangatlah ramai amoi2 kedai berkenan. Depa borak sesama sendiri puji2 seluar ai tu lah, aku memanglah tak paham but anak2 aku kan understands mandarin, so depa dok pasang telinga jer dengo amoi2 tu puji seluar maknya. Depa le gak yang cite kat aku. Bagus senang gak ado anak2 pakai cakap cina ni, we should go back to Beijing lah korang, kompem nyopping mak kau lagi senang nak bargain.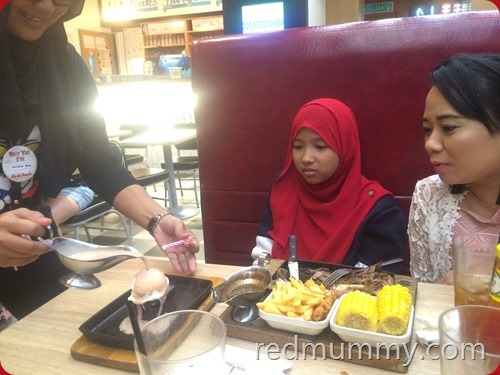 that dessert for us to sing her birthday song,  tapi yang makannya aku ngan laki aku. Semua dah too full….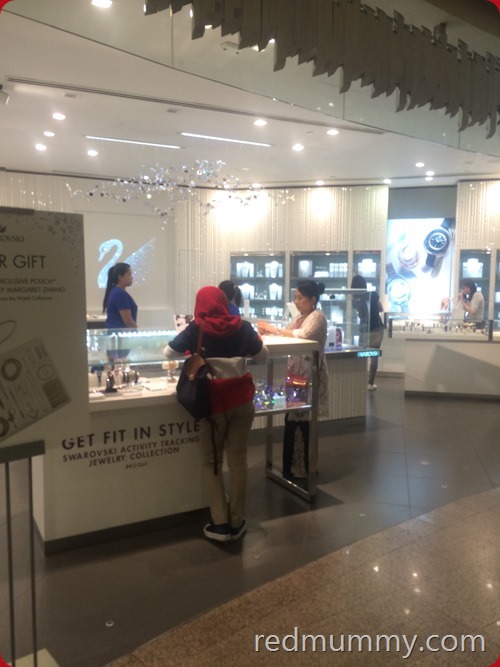 tak abis2 lagi mak kau….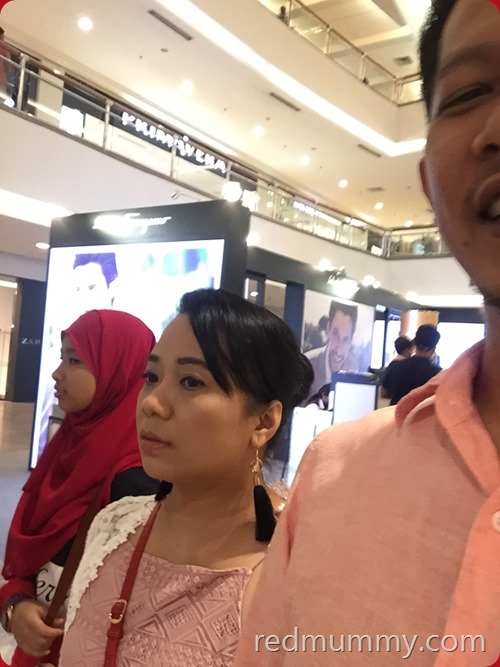 my kononnya 5min make up (more actually), this one yang sempat akak buat first time using LIVE, FB. Meriah borak ngan korang benaunya dalam LIVE tu rather than makeup pun…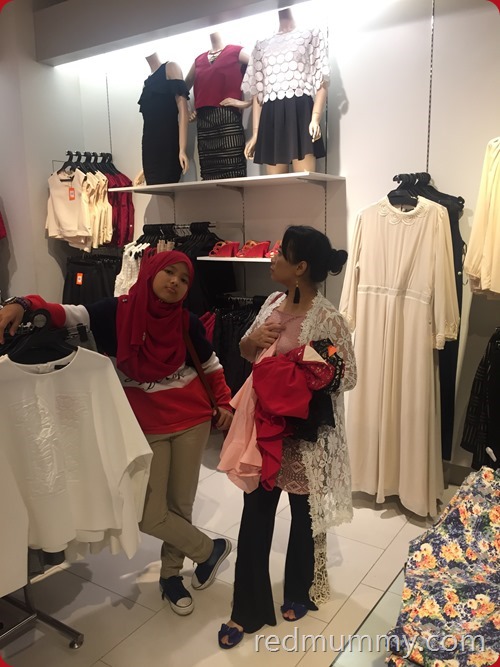 i got to shopppppppppppppppppppp here. well birthday anak, tapi anak dara aku ni kan jenis yang simple, she ddint ask anything pun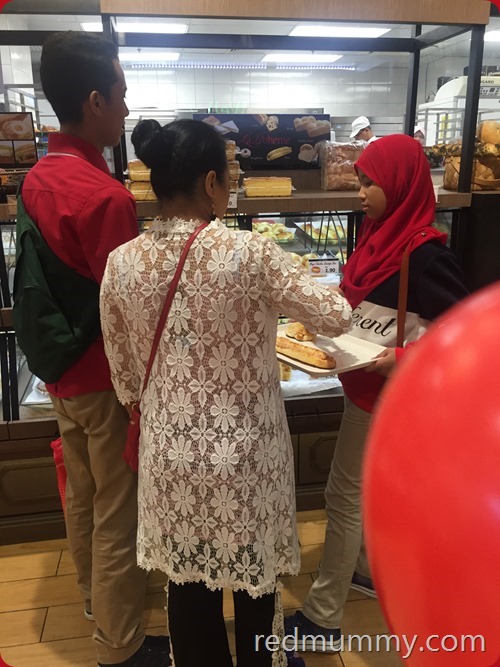 roti2…hah ni memang depa setuju sangat maknya belikan…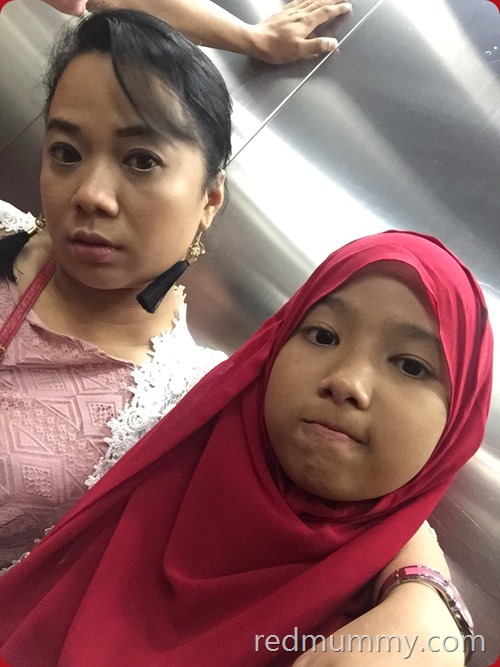 happy 12th birthday kakak dengan ucapan, bila bapak kau nak bawak hang pi buat mycard?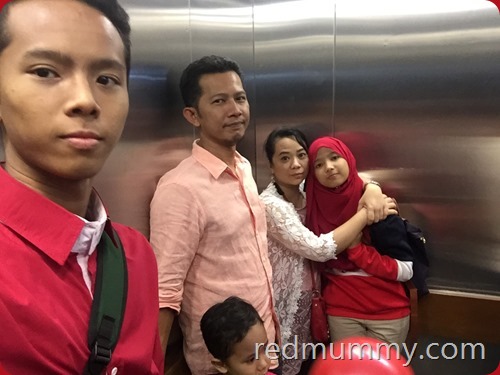 aku rasa kakak sebenarnya dah nak beat my height gak tuh. Alah aku bukannya tinggi pun, memang sap sap soi ler anak2 aku nak potong kependekan maknya 🙂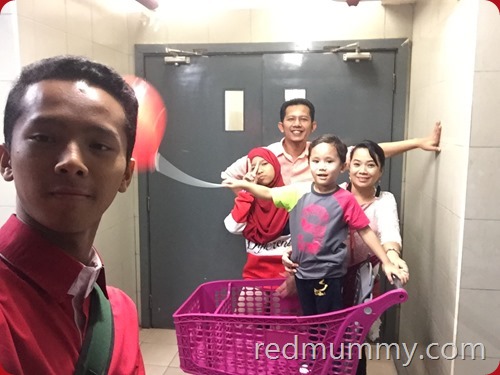 we ddnt stay long, mak kau pun dapat baju nyopping and terus balik. Musim2 nak periksa UPSRA and PT3 for both abang and kakak and hardly kita nak dok sesantai lelama kat luar.
Tapi ko tunggulah habis periksa nanti. first thing depa ask dah menunggu dalam list:
1. handphones
2. watching tvs
3. short holiday
Oh well….
Comment:
3