May 27 2009 Wednesday, 3:00 pm
24hrs sticky mode. Scroll down for the updated entries.
Semua orang suka benda2 unik kan. Even me myself pun kalo boleh nak bolot or dapatkan benda2 yang unik ni. Kalo tak unik pun at least kita boleh customize or design kan ikut suka kita kan… so kira exclusive utk kita jer la. Best2 😉
Apa yg saya maksudkan ni ialah The New You:nique Picture Card, introduced by Alliance Bank Malaysia Berhad (Alliance Bank). Malaysia's first personalized picture credit card that comes with a customized value plan that offers the best rebates, rates and rewards scheme currently offered in the nation.
Their mission is simply to allow customers to choose their own image that appears on their credit cards. Basically they are Malaysia's first ever and only credit card that lets you design your own card face and customize your own features.
And on top of that, they offer you all – 3R Great Rebates, Great Rates or Great Rewards!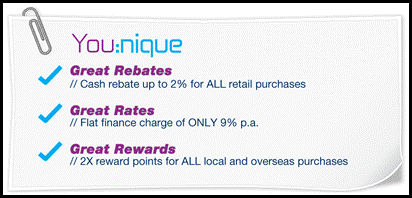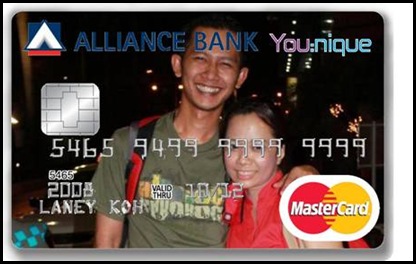 Ha cam ni, letak la muka hubby u, so leh la pujuk2 suh dia sponsor your cc bill tu nanti ye dak 😉 at least time nak gesek tu terpandang la muka dia, agak2 sian kat dia kena byr byk, gesek la patut2 hahahahha ai likeeee
Nak apply dia senang jer. Just 3 simple steps:
Step 1: Design
Go here http://www.alliancebank.com.my/younique/ & Upload your photo. (or you can also use their ready image  from the library)
Once you uploaded your photo, then u need to adjust like below: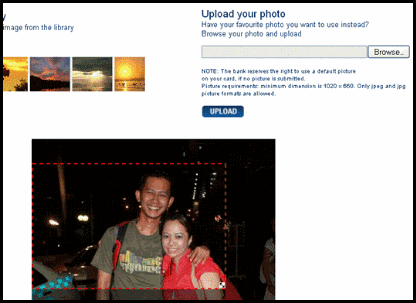 Step 2: Preview
Click on Preview Your Card at bottom right & you'll get this:

Korang leh go Back kalo rasa gambar tu cam tak sesuai, senget ke or even nak pakai gambar lain.
Step 2: About You
Once dah puas hati dengan design tu, Tick kat "I have read, understood, and fully accept the terms and conditions." Pastu click Confirm Design then you need to key in some information about yourself.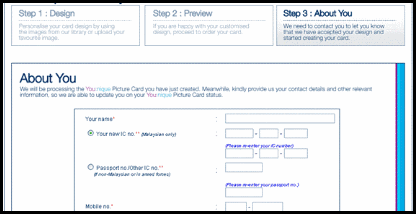 That's it! Once your application approved, you are now You:nique
Bila dah submit application tu pulak, skrg you all entitle to their contest – You:nique "Sweet Family Moments" Photo Contest [from 8th May till 31st July 2009] and stand a chance to win these amazing prizes – Digital Camera, iPod Shuffle & RM50 Cash Reward!
Go to Sweet Family Moments contest page – https://younique.alliancebank.com.my/pop/index.html for more information. Since dah nama dia Sweet Family Moment contest, tak reti2 letak gambar family cam ni 😉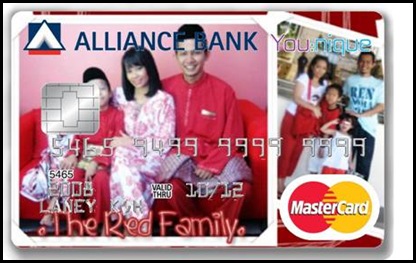 And kepada Facebook fans lak, be a fan to You:nique Picture Card Facebook Fan Page at http://www.facebook.com/pages/Younique-Picture-Card/74932842631?v=wall&viewas=1098504860. There you can find out more about Alliance & You:nique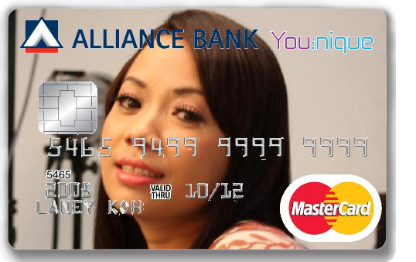 Comment:
11