Mar 30 2009 Monday, 4:00 am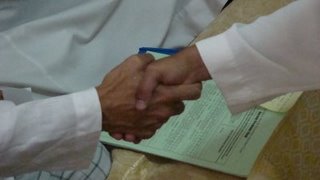 Wahhh!!! Di kala ari yg mulia camni, ttiba sang suami bkata kt isteri camtu. Mau terkedu. Terasa kepala cam berpinar-pinar. Pusing kepala. Betul ke? Habaq mai skali lg. Ye, betul. I dah kawen lagi satu. Skang neh you dah ada madu. Nanti dpt payung emas kt syurga tau! Haaaa.. Kaum adam, dh tau pasang dua, tak pyh la sebok-sebok nak bgtau yg isteri pertama dpt payung emas ke pe ke. Silap-silap sang suami yg dpt tamparan wanita dulu. And of coz yg wajib, pot pet. Kan? Mau perang dunia 3-4 meletup. What will you do if your partner ttiba bgtau dh ada lain? Rasa cam nak hentam je kan? Tapi takdelah smpi bunuh suami. Luckily women at Malaysia not as ganas as other countries. Ada lagi la ciri-ciri keimanan dan ketaqwaan tu. Paling buruk pun, siram acid je.
Believe me. The wifey tak sampai hati do smthg bad to the hubby. Marah tu mmg la. Sape x marah? Terasa cam kena tipu idup-idup. Chenta yg slama neh ilang kemana? Kenapa ttiba nk kawen lain? I xmo share-share neh! Tp antara sbb utama kenapa the wives marah when the husbands kahwin lain sbb taknak share teman sekatil. Kan? Kan? Kan??? Sape nak? Angkat tangan! Owh.. Kaum adam memang la angkat tangan and kaki sume. Memang suka je klu ada 1-2-3-4 teman sekatil. Ada variety ek? Huh.. Byk la variety. Nak pilihan, pi langgan Astro. Byk je pakej. Pilih je. Tak pun ajak isteri pi beli berlian sebijik dua, byk pilihan n sale kt kedai tu.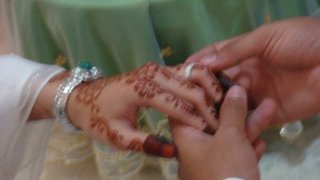 Senario isteri tertekan menekan ditekan mmg terjadi bila suami blk-blk habaq mai dh kawen lagi satu. Semiggu dua sebulan dua setahun dua mmg makan hati. Tapi lama-lama macam tabah je. Ye, perempuan mmg tabah. Dia x bleh accept now, later on bleh la tu. Slow-slow. Takpun dh bleh accept lama dh tp saje buat mahal. Still it's not excuse for the men ttiba kawen lain? Pe kes? Hati u berubah? Ada org goda u? Bukan u goda dia? Camtu? Dah.. Dah.. No alasan. No reason dh. Dah kawen tu kawen la. Tapi wahai kaum Adam, ingat la ye. If nak pasang lain, cuba fikir sket. The wife yg skang neh dh ada banglo 2-3 biji ke? Dah cukup sume ke? Makan pakai sume? At least credit card wif unlimited limit. Kan? Tak gitu kaum hawa? If dh ada sume tu, silalah kawen lain if teringin nk pasang lain.
Perempuan yg menjadi isteri pertama neh mmg marah n sedey sesgt if suami kahwin lagi satu. Tapi when the suami nak pasang lagi satu, yg no 3 lak, the 1st wife akan senyum je. And for sure dia akan ckp kat 2nd wife, haa.. Padan muka. Dulu amek lagi asben aku, now kau rasa lak camne sakitnya hati aku tu. And if the husband still nak cukupkan kuota, lagi la yg the 1st wife suka. Galakkan pun ada. Sebab? Takpe, he'll less attention for me and I can find another one. Waahhhhh… Wahhh…. Ada ye camtu. Neh mesti kes-kes darurat sgt dh neh.
This entry means no harm tu the 2nd wives or 3rd or even 4th out there. Sapa yg nk kawen dgn suami org? Nak ke? Owh.. Tidak!!!! One tip for you, if your partner already mentioned or nampak cam gaya-gaya nak pasang dua tiga (neh kes ada girlfriends lain la neh), silalah tanpa malu dan segan ajak dia kawen dulu dgn u. Why? Takpe. Being the 1st wife is better than yg lain. Plus dapat payung emas nanti. He.. Sakit hati tu memang la. Tapi pepe, sakit demam muflis, isteri pertama gak tmpt merujuk mengadu domba. Well, at least, you dh 'bsama' dia before org lain. Hahaha.. Mana tau kot-kot lepas kawen dgn u, dia dh tak ingat org lain dh. Memang ada kemungkinan sang lelaki akan melupakan bunga-bunga lain.
Tak sume lelaki tu nk pasang byk. Ye, ada yg loyal. Tp kadang2 keadaan dan masa ubah all this prefect situation. If terjadi.. Byk la bersabar. I noe it's hard to let go. But if the love and care still inside the heart, kept it. Hold it. Mana tau satu hari nnt, dia ceraikan sume yg lain, and back to you. Hhahaa.. Okeh.. tu sounds jahat dh. Pandai-pandailah berkongsi kasih if had to. It's not easy but yes, you can do it. Pejam mata. Cry if u need that. Tapi dont hold back. Bring forward. Insya-Allah everything will be great. Allah always be with you. For the 2-3-4 wife, dont easily judge your madu tu bad. Yourself make a bad impression by married 'kepunyaan org lain'. Am not saying you're bad tp dh jadi kan, nak buat camne. Tak payah la nk blagak cam isteri pertama. Hormatilah yg pertama. Sebab you kena ingat, if you're the 2nd one, ada chances the suami will pasang lagi satu. Takde guna gaduh-gaduh sebab lelaki.
Sebab if one day the husband died, automatik all the wives jadi baik-baik je. Silap aribulan jadi bestfriends lagi!
Kaum adam.. Pasang la byk mana anda mampu. Tapi 'makan luar' is not somthg that sang isteri can accept. Ingat satu je la, even if you can provided RM20K perweek to the 1st wife, it's not enuf. The loyalty from you is the best gift ever!
p/s those pics not from my wedding. tah sape tah. asal ada gambo la kan = D

cikponbopbon.blogspot.com
Comment:
11