Oct 26 2016 Wednesday, 12:00 pm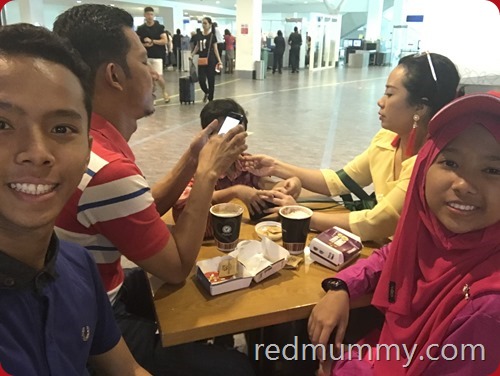 dalam Lombok trip ni mungkin tak banyak gambar Zeeshan yang tengok camera, coz he has issue muka tak hensem ahhahaa….so dia tak suka pandang camera. Muka dia kan tengah allergic, so ada bengkak and memerah (tiap kali amik gambar dia akan pandang tempat lain) or lari dari camera.
We drove to KLIA2, via AA, itu jer flight yang ada terbang ke Lombok. It s 3ish pm flight but before 2pm gitu kita dah settled dok dalam coz we know this KLIA2 ni jauah bak hang nak berjalan ke gatenya.
Siap lelepak makan minum kat sini.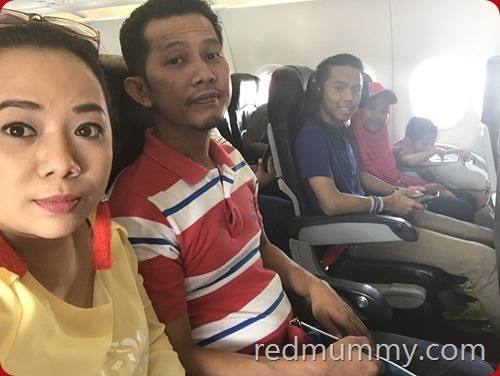 Lepas dah dok sini, abang kakak rasa sengsara jer asyik adiknya mengacau hahahaa….dok suruh adiknya pindah dok ngan makpaknya (memang ada extra seat kosong sebelah aku tuh). Kita takde amik any meals here coz dah memang tapau McD sesiap (though nuggets and 1 burger dah licin sebelum naik kapal) but lagi 3 burgers buat lapik makan sini, roti2 for Zeeshan pun dah siap ada.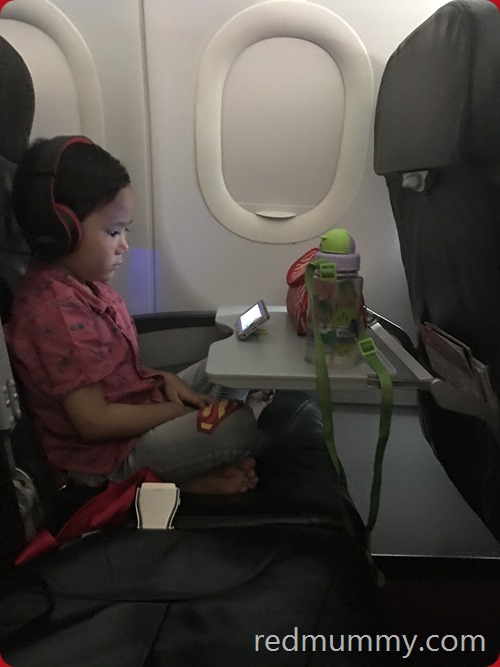 laki aku pun dah siap2 downloadkan movies to his handphone and mine. 2 phones jer yang ada movies. Because i m using ip7, laki aku amik my old ip6 so his old ip5s goes to Zeeshan ler…hahahaha. Kakak dok kabau adik aku pun pakai ip5s, aku ip5 jerrrr.…Kakak tak nak tukar ngan adiknya coz masa bapaknya pakai hp tu, agak mengganas (banyak jatuh) so some of the performance is not as good as hers. But ok jer pun actually, mengada je lebih.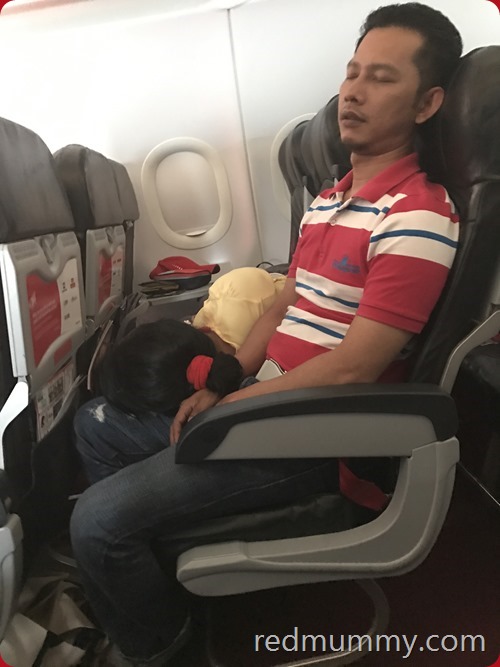 I tengok movie, sharing telinga (earphone) ngan laki sekejap jer pastuh kitorg dedua mata dah mengkuyu. Flight tak full sangat so tarik arm stand and tidur like your own bed

. Same goes to abang, dia pun pindah dedepan lonjong panjangkan kaki dia tuh. Lena gak lah….dah nak sampai baru berjaga. It was 3 hours flight, lama gak tuh hishh…kalau sejam lebih 2 ker sedap gak, pada aku yang lebih 3 jam nih memang patut ler laki aku download movies lam hp.
Apa guna ada 256g kan hahahahaha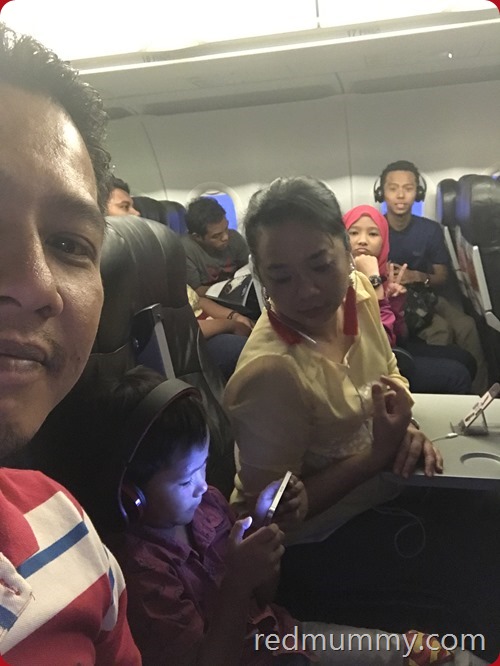 so bila dah nak sampai, memang ada yang melapau gak lah, Zeeshan tu ada tidur kejap but cam aku cakap awal tadilah, bila dia nampak je camera dia terus pandang tempat lain.  bahagia abang kakak bila adiknya pindah seat…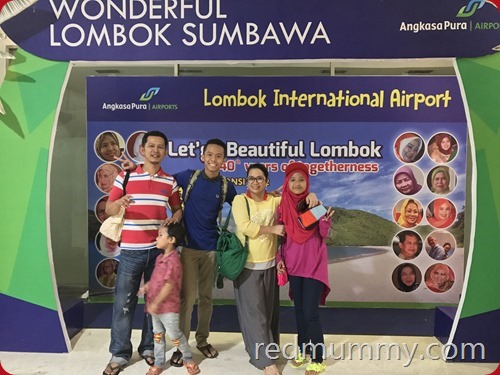 arrived landed Lombok's airport smoothly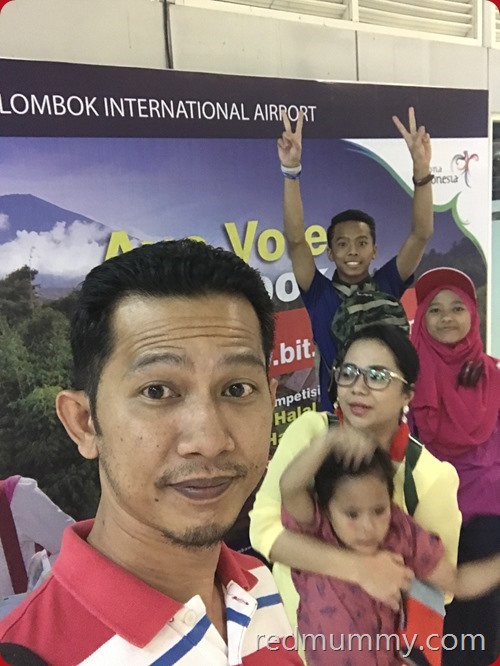 ko tengok punya dia tak nak tunjuk muka dia kat camera….haih adik ooo adik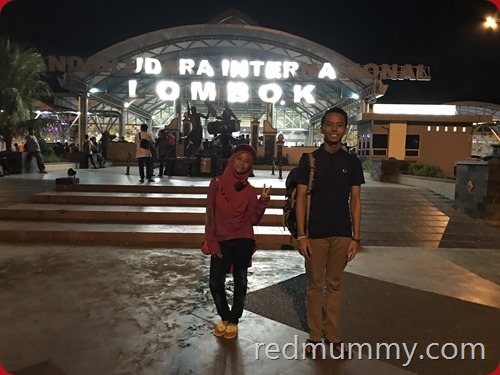 mana ke dia lampu alphabet tuh…the entrance of Lombok's International Airport
we were greeted by our Supir aka tourist guide. Masuk kijang langsung pi dinner.
gambar dinnernya ada dalam hp laki aku and he hasnt done any transfer from his fon to laptop jadi kemudian2 ler baru tayang gambar tuh…
so we stayed at the Living Asia Resort & Spa, dapat villa with a private pool (memang ai requested for this, but asalnya recommended by the agent). It s 1 king bed with 2 extra beds.  Besarlah gak bilik ni, for all 5 of us.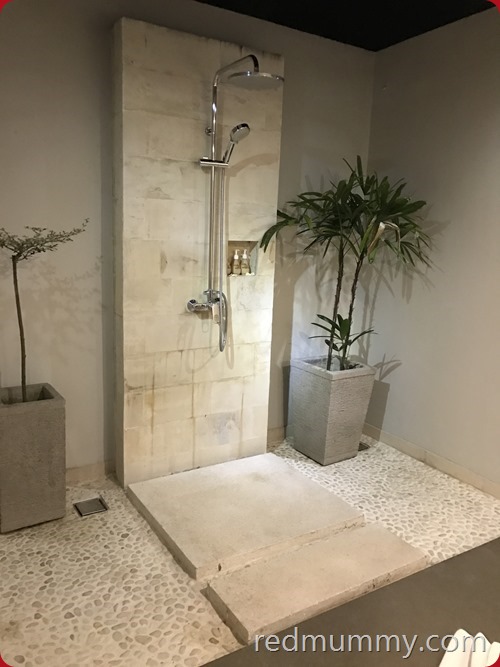 bathroom pun open concept gini, so kalau hujan memang mandi sama dalam hujan kat shower tu heheheh….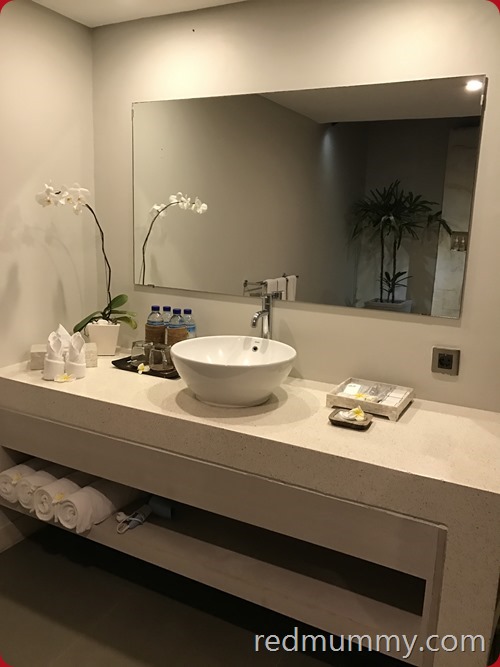 i like the resort so muchhhhhhhhhhhhhhhhhhh!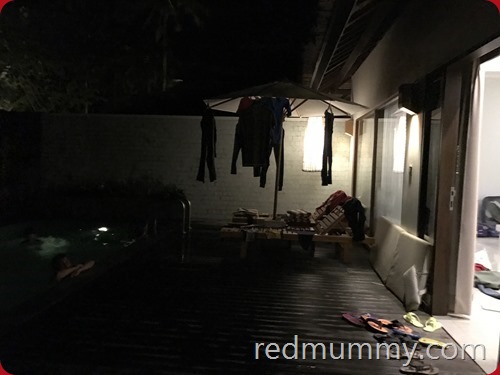 sebabnya ada private pool for us, ko tengok kain baju bersidaian, ini dah final night nih gambarnya so semua baju lelembab dikeringkan di sinilah. dedepa tengah mandi kat pool tu, besar gak pool memang luaslah for depa berkubang.
aku macam biasa, i dont like all these memandi bagai, laut ke pool waterfall ke….
gambar terang pool ni nanti kemudianlah yeah. ada ler lam 4ribu photos tu, not to mention kat laki aku and kids nya photos gak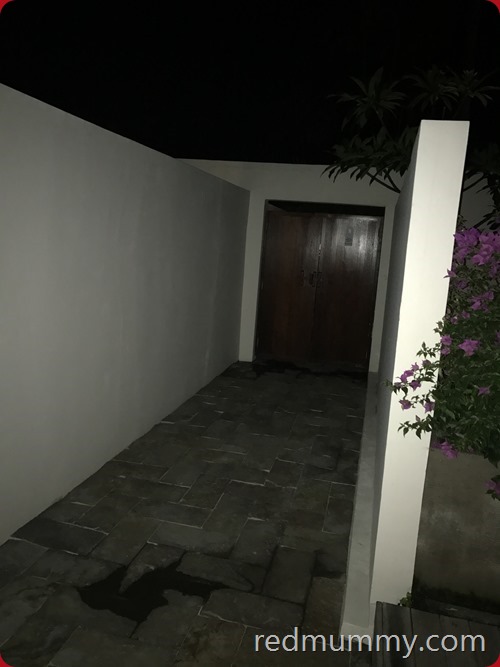 oh ini entrance to masuk our villa, sangat privacy lah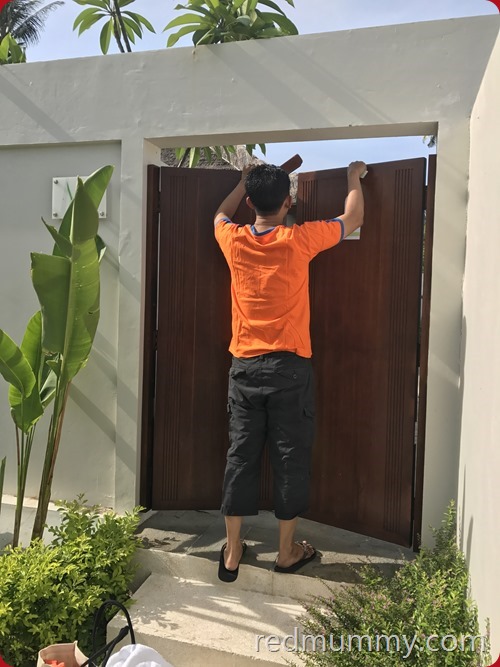 ini cara tutup pintu villa nya…hahahah dah ada gambar ni siap letak ler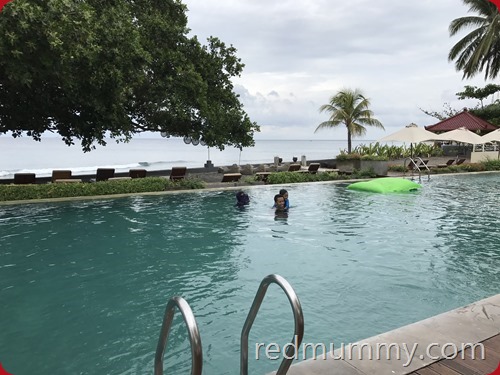 on our final day, pagi tu bebudak mandi kat pool besar resort nih….orang tak ramai, tak crowded, so korang nak kuak lentang, korang punya pool nih. Ada security jaga coz in case kita nak mandi kat beach just depan tu, diorang tengokkan. Lepas mandi tu depa sambung breakfast, situ jugak, the view memang sama. Eh highly recommended sangatlah resort nih.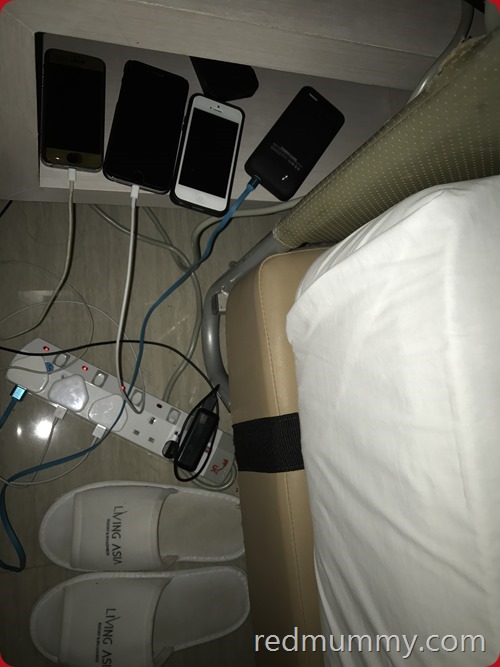 hah setiap kali kita terbang anak beranak, ini extension panjang wajib bawak coz nanti memasing nak berkongsi charging. Usually ni kerja aku handle ler. Kena manage sapa punya yang dah full charge, power case bank pun kena gak sama charge. Charger for car usage pun, aku bawak sama gak.  Senang kalau semua apples, ni abang sorang pakai android, jadi kena ada cable lain for him and the power banks too. Haih…bila lah dia nak insaf pakai ipong heh.
satu tips lagi bila kita 5 beranak ni travel, semua nak data kan, if overseas lagi ler. So biasanya satu fon akan ada local simcard (for this case is Zeeshan's fon lah), then kita hotspotkan for all 4 of us tumpang pakai bagai. Dalam resort ada je wifi but bila on the move tu maksudnya…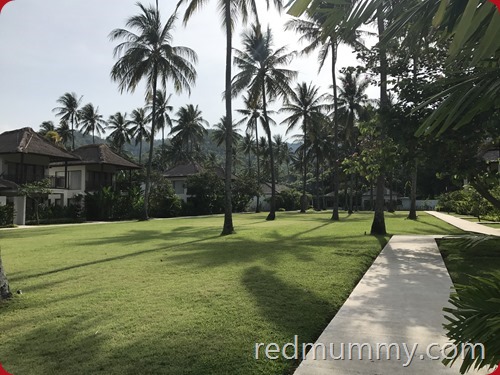 sekitar Living Asia Resort and Spa. Korang google lah nanti, and click for Private Pool Vila, itu yang akak duduk. i think satu malam dalam USD200 – 300.  termasuk dengan breakfast gak for 5 of us too. Akak bayar package lah, ground for all so ai tak tau nak kira camne asingkan nih. I didnt even google this resort, main leave it jer kat guide coz akak kan bz giler dok kat Penang kerja tuh. This is last minute trip punya decision worr….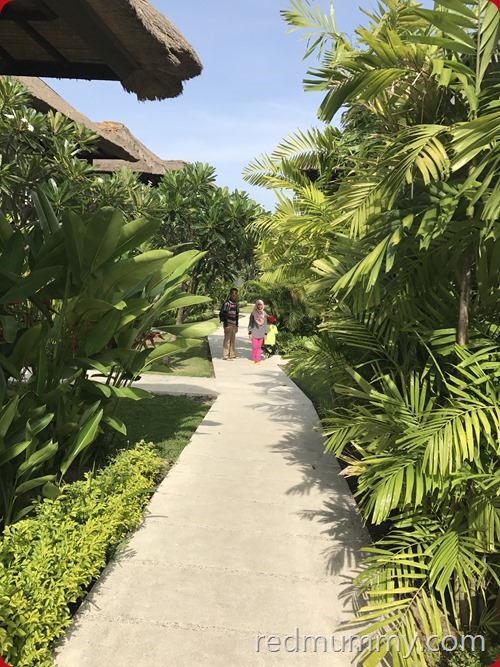 laluan from the villa to the pool/beach/breakfast.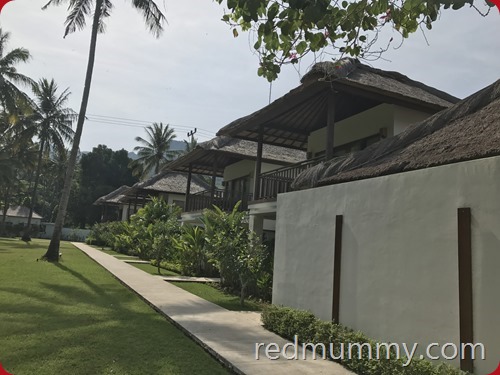 kalau yang bertingkat 2 tuh, atas lain bawah lain. Hok tuh takde pool. Yang villa sahaja ada private pool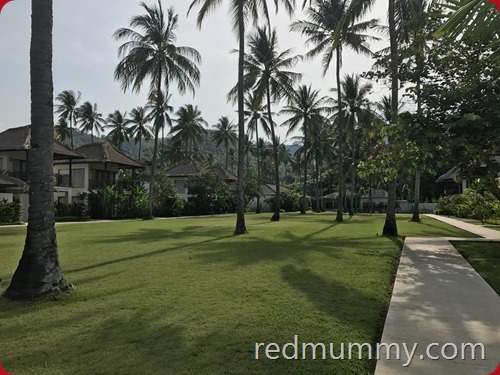 so that s a little bit of our Lombok's accomodation and sket2 on the first nite sampai. You must stay here, Living Asia Resort and Spa. Tenang aman and tak crowded, breakfast pun mengadap beach gitu. Cuma ada tokek. Tokek is their animal's trademark lah for Lombok nih, cuma dia berbunyik kat 3 malam kita tidur tuh.
First nite aku ngan laki aku yang dengo, dah past midnite, jenuh laki aku selongkar satu bilik carik mana datang bunyik tuh. I thot pulak bunyik hp anak2 aku so dah off pun ada lagik bunyiknya.
2nd nite, aku sorang je dengar coz aku paling lambat tidur. But after dah dengo first nite tu, kita report sama management, depa cuba carik nak tangkap but tak dedapat. Even 2nd nite report pun depa crik lagi, offer untuk tukar villa but malas dah lah nak unpack pack bagai, kita dah selesa kat situ.
On final nite dia 'check in' at 830pm kau! hahahaha..semua anak beranak dengo. But before midnite dia dah senyap ler…Tokek is gecko. hah bunyik dia siap aku record gak.
So yes, anyway…we love this resort soooooooooooooo much.
Comment:
13